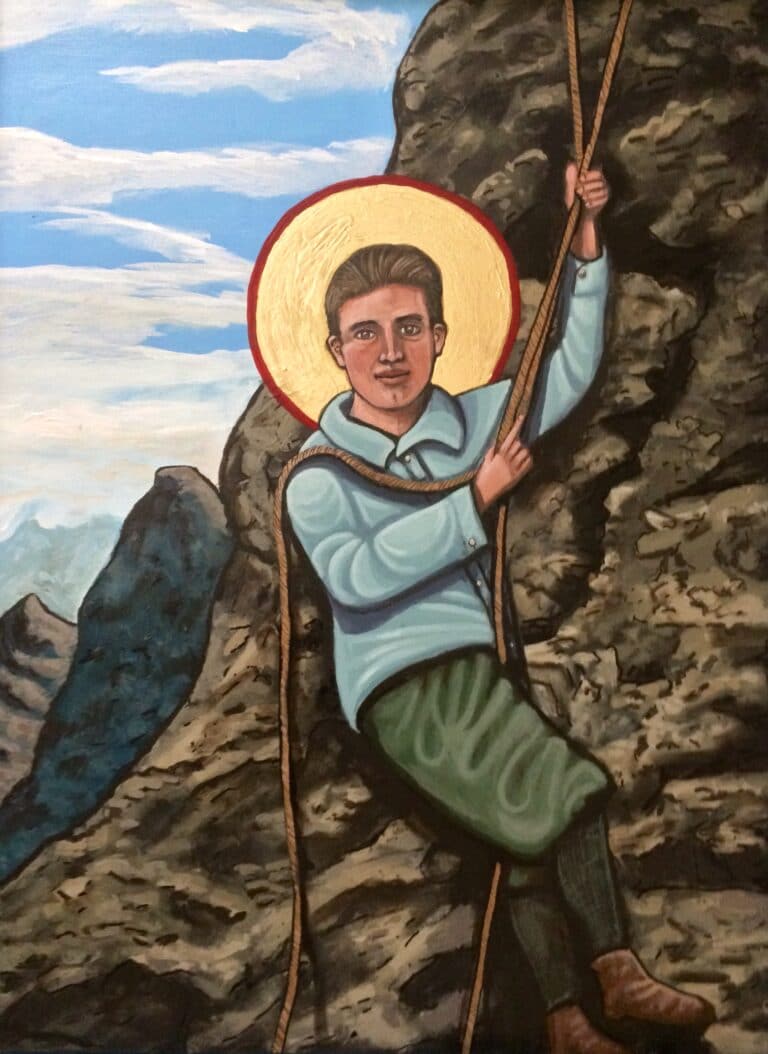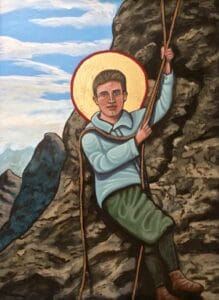 When John Paul Lichon first founded Verso Ministries, he did so in the spirit of Blessed Pier Giorgio Frassati. In life and death, this Italian social activist, mountaineer, and defender of the poor has been an inspiration to Catholics everywhere. And he will be forever linked to the phrase he wrote on a photo of himself: "Verso L'Alto," which means "to the heights."
But Frassati is more than a founding inspiration. His life and words are a North star for Verso at every step. It was with that in mind that John Paul commissioned an icon of Blessed Pier Giorgio specifically for Verso. The result is a beautiful icon of Frassati titled "Climbing Higher" from the iconographer Kelly Latimore.
"I could think of no better way to honor the legacy of Frassati and inspire our ministry than investing in an icon of Frassati himself," John Paul said. "Once I saw Kelly Latimore's beautiful work in iconography, I knew he would be the one to do it. It was uplifting to be able to talk through Frassati's life with the artist, knowing it would affect the creative work, and the end result is incredible. We are so thankful for this sacred painting that we look to during the life of our ministry." 
Icons — "Windows Into Heaven"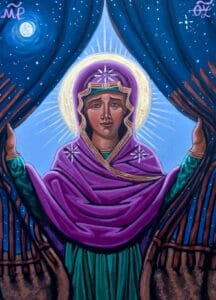 Few people know what it is like to be human better than an iconographer. Iconography is the original tradition of Christian sacred art. History teaches that the first iconographer was St. Luke the Evangelist. Those in Eastern Christian traditions taught that icons were "windows into heaven" and that the sacred image is ultimately meant to point you towards prayerful contemplation of the living God.
Icons are meant to portray humans that are revered for their holiness. Although just ordinary people, saints serve as models and inspiration for all of us to respond fully to God's invitation. Icons are meant to encapsulate the story and witness of its subject, to serve as a prayerful reminder of their story and their witness. These images continue to inspire those everywhere, including iconographer Kelly Latimore. 
The Birth of an Iconographer
Kelly grew up in Illinois in a Baptist household. He attended Greenville University in Southern Illinois where he studied art and religion. After college, Kelly had the option of moving back in with his parents or going to live with his best friend who was working at a homeless shelter in Athens, Ohio. 
It was in Athens that he was introduced to the Common Friars. The Common Friars were a monastic community whose mission was to become more connected with themselves, each other, the surrounding community, and the land. They lived in community with one another while growing food for food pantries in the area.  Upon joining the community, he learned how to farm and entered the most formative time of his life. 
"In college I was a religion and art major…my courses really opened up my world view and understanding of different religions, as well as transcend my bias of the religion I grew up with," Kelly said. "When I entered this community in Athens, being around people who didn't think and look like me, it really helped open me up to things that I never expected."
More Than a Painter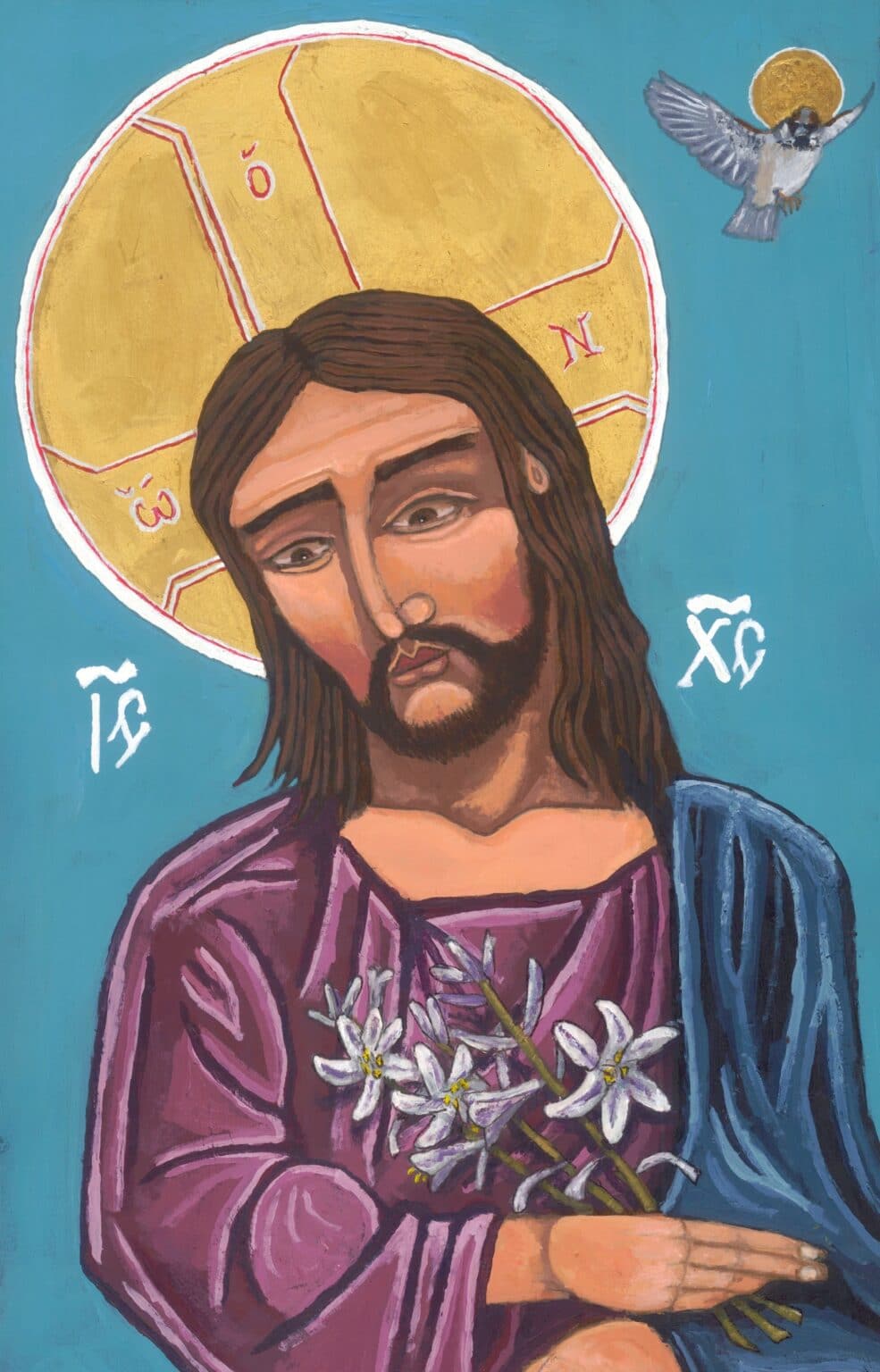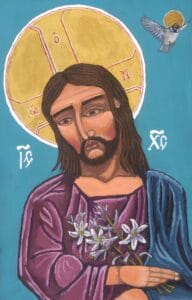 Throughout his time living, working, and praying with the members of the community, Kelly continued to paint. While he never thought he would do something so neatly packaged as icons, he took up the challenge and started to paint them.
"One friend I made in the community, a priest named Tom, told me 'You paint a lot. Have you ever tried to paint an icon?'" Kelly said. "I knew what icons were, but I'd never actually sat down and tried to paint one."
Kelly took up the challenge and tried his hand at an icon. The first one he completed was called "Christ Consider the Lilies," an icon that had great meaning in the Common Friars community. 
"My best friend, Paul, would constantly say 'how do we, in Christ's words, 'consider the lilies of the field?'" Kelly said. "Not only do we want to be in right relationship with people and with ourselves, but how do we grow food for the people around us and for ourselves that also maintains a good relationship with the earth?"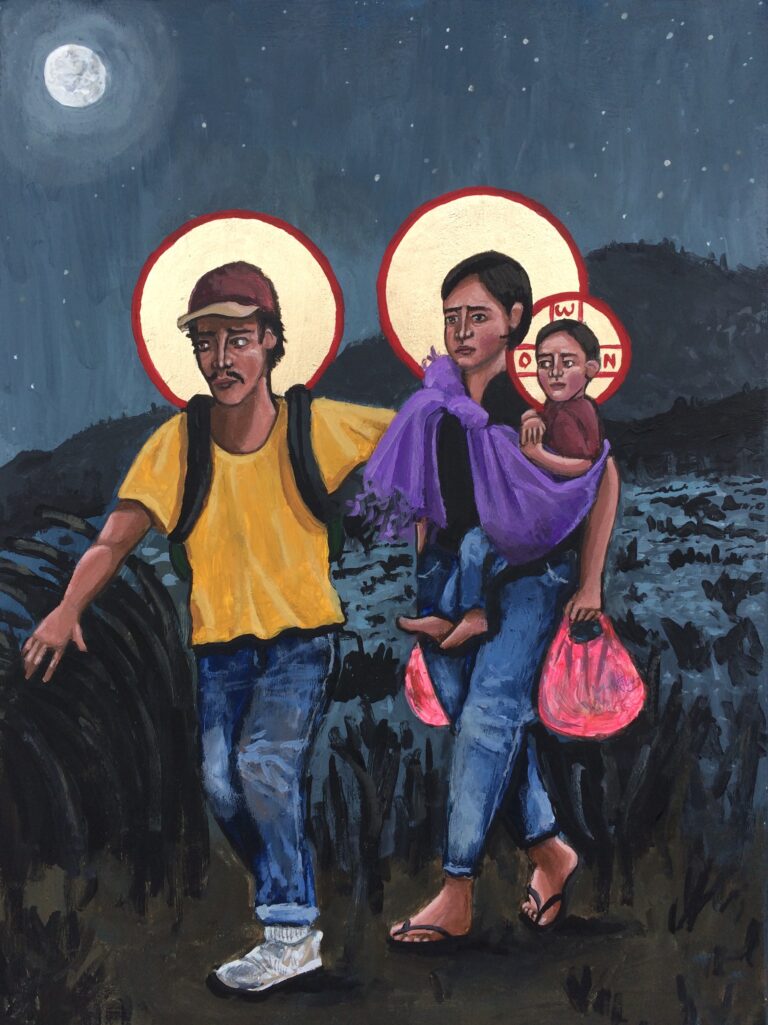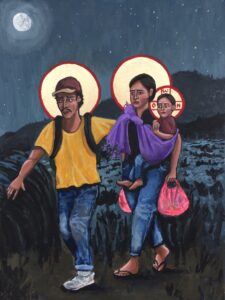 From there Kelly completed more and more icons, met his wife, Abby, and then moved to Missouri. Some people asked to see his icons and complete icons for their loved ones, but his icon business really took off once he created a website. He started to get more commissioned works from people across the country, not just those who lived in the Common Friars community. 
One of his most popular icons was the image of "La Sagrada Familia," a depiction of the Holy Family as refugees. This icon is also the one that created the most controversy. "People see it in such a way that they either resonate with the image or get triggered by it," Kelly said. "Both reactions are important… I wanted to show that as much of what the Holy Family was going through is still happening today. That is something that a community can reflect on and be a placeholder for thought."
The Frassati Icon
One of his commissions came from John Paul Lichon, Founder of Verso Ministries, who asked Kelly for an icon of Blessed Pier Giorgio Frassati.
"How do you capture the whole life of someone in this one image?" Kelly had asked himself about this icon. But he soon found the answer in the life of Frassati: 
What was cool about Pier, he was someone who committed his life to the poor and the idea of going higher, and the adventure which was where I had connected to it. When we think of salvation or of Christianity, we typically think of it as a destination; but it is a journey, a pilgrimage. The idea of climbing the mountain was the most important thing. I didn't want him to be at the top of the mountain, like his journey was done; I wanted him at the middle of the mountain with the rope, subtly pointing at the summit. Saying this is where I'm at now, this is what I'm looking towards, but this is fun. That's part of what life is in general; if you are not having fun doing what you are doing, why are you doing it? 
The role of the artist is to create work that allows them to be more present to themselves, to their neighbor, and to the world around them. 
"This is my main goal," Kelly said. "Being present to myself and really trying to see the people that are among all of us that give us signs of hope and light and life and live lives of love in a way that challenges the status quo." 
The Pilgrimage of Life: To the Heights
It's our hope at Verso Ministries that this icon will inspire all who see it, will continue to strengthen the staff at Verso Ministries to give our best, and will continue the legacy of Blessed Pier Giorgio Frassati. 
Take a moment for yourself, now, to contemplate this special icon. Remember the life of a young man who gave his entire life to Christ. One who climbed the heights of mountains, humbled himself to serve the poor and sick, and continues to serve as a guide to the faithful even in death. 
"The higher we go, the better we can hear the voice of Christ."
     – Blessed Pier Giorgio Frassati