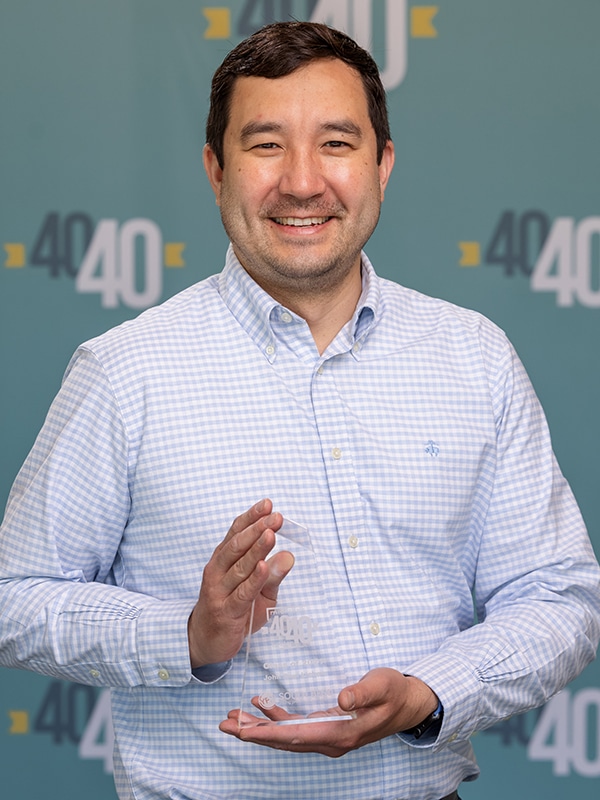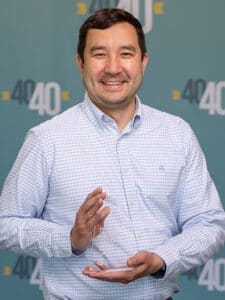 We're so excited to announce that Verso's very own founder and CEO John Paul Lichon was named a 2021 Forty Under 40 recipient!
The Michiana Forty Under 40 program shines the spotlight on 40 of the South Bend/Elkhart, Ind., region's most talented and dedicated young executives, leaders, professionals, employees, and adults who demonstrate career success and community engagement, all before the age of 40. One of the region's most sought-after business awards, this year marks the recognition of the program's 15th class.
John Paul, 37, founded Verso Ministries in 2016 after hearing God's call to start a pilgrimage company while attending World Youth Day in Kraków, Poland. Since then, Verso has completed 34 domestic and international departures, with over 650 total travelers. Despite the global pandemic and an abrupt halt to travel since March 2020, the company continues to pursue its mission of bringing people closer to God. We've offered two virtual pilgrimages, one during the Christmas season and most recently a Holy Week video pilgrimage to the Holy Land, attracting over 2,000 participants.
"It's a great honor to be included among this distinguished list of honorees," said Lichon. "I feel so blessed to be doing what I love while also helping others explore the world and discover what God has in store for them. This recognition is affirmation to keep doing what we're doing. We can't wait to resume pilgrimages later this year and into 2022!" 
Lichon's colleagues, who nominated him for the award, had this to say: 
"Working alongside John Paul has been an absolute pleasure and a lot of fun," said Erin Bonin, director of business development at Verso. "He puts 110 percent into his business, his family, his parish, and his community. I can't think of a more deserving person to be named to the 2021 list of Forty Under 40." 
"John Paul is an authentic servant leader growing a thriving team," added Stephanie Petrie, associate director of operations at Verso Ministries. "It is a great blessing to work with such an ingenious visionary and someone I consider to be a role model."
A man of faith and heavily involved in his Catholic parish, JP has served on the Pastoral Council of Holy Cross Parish, South Bend, Ind., since 2016. Through this position, he also sat on the Pastoral Planning Leadership Committee and is currently co-chair of the parish's Community Building Team. At the parish's elementary school, Holy Cross School, JP has volunteered at events such as annual fundraisers, Our Lady of Guadalupe celebrations, open houses, and more. In addition, he's a professional pianist and contributes his musical talents at Holy Cross, as well as on the campus of the University of Notre Dame. 
John Paul graduated from the University of Notre Dame, Ind., with a bachelor's degree in 2006, followed by a master's in theology through the University's Echo Graduate Service Program in 2009. He lives in South Bend with his wife, Katy, and their three young children.