The month of September always feels like embarking on a new pilgrimage. Even though most of us at Verso haven't been to school in some time, back-to-school themes – the preparation, the new beginning, the refocusing and recommitting after summer holidays – still resonate. 
September also felt like time to introduce ourselves. We are the people behind the emails, the itineraries, the perfect gelato stops. You might see one of us on pilgrimage with you, or we might exchange notes or calls. Whether you share our love for the Camino, for pasta, or street musicians, we're so happy to have you along with us on our communal journey towards God. 
Get to know the Verso Staff:

Favorite travel memory or anecdote?
"Early-morning praying the Stations of the Cross along the Via Dolorosa in the Old City of Jerusalem, followed by venerated the rock of Calvary where Jesus was crucified, followed by Easter Mass at the empty tomb. An emotional rollercoaster for sure, but one of the most meaningful and prayerful experiences of pilgrimage!" -John Paul Lichon, founder and CEO
"Spending 8 weeks in Argentina while in college was truly transformative. I was forced to navigate a new city, communicate in a new language, and really fend for myself – it taught me how to embrace being uncomfortable. I learned so much about myself!" -Brooke Kostielney, Director of Marketing
"During my first pilgrimage to the Holy Land, I had the chance to visit all the holy sites with a guide in advance of my group arriving. I was really nervous for this first group because I was doing it on my own and I felt very green and unsure if/how I would accompany the pilgrims. So this anxiety was with me as I visited St. Peter's Primacy on the Sea of Galilee, but when I stood on the rocky shorefront and looked out over the lake I heard God speak in my heart those same words Jesus spoke to St. Peter centuries before:
"'Do you love me?'… 'Feed my sheep.' (John 21:17). In that moment, I knew that God would give me what I needed in order to do as he asked, to feed his sheep. Each time I step on that rocky beach, those words reverberate in my ears, my heart, and I feel close to God and close to our pilgrims, past, present, and future." -Stephanie Petrie, Director of Operations
"Hiking the Aosta Valley in northern Italy: we were in an untouched mountain range that no car could reach, surrounded by silence, the beauty of nature, clear skies and full hearts. I had the deep impression that God had created this entire mountain range so that He could draw near to me at this specific moment. It was a very personal moment, and I am still calmed and comforted by its remembrance!" – Sarah Harmon, Pilgrimage Coordinator
"Setting up camp with my brother and a friend deep in the National Forestland to the North of the Grand Canyon with no one else for miles around after we accidentally arrived on the wrong side of one of the biggest canyons on Earth." -Ted Nagy, Operations Assistant
Favorite pilgrimage destination?
"Holy Land, closely followed by the Cathédrale Notre-Dame de Paris." -Mike Montalbano, Managing Director
"Italy – I had my deepest conversion moment during adoration in Rome. It was a cool crisp night and the Lord was so present to me and I could just feel His love washing over me. It was the most surreal experience of my life. Also, gelato." -Annie List, Business Development Specialist
"Turin, Italy – where our patron, Bl. Pier Giorgio Frassati, is from!" -Charlotte Velloso, Pilgrimage Coordinator
When I travel, I am always on the lookout for ______?
"A local brewery to try out different beers. I love local brews!" -Hunter Bratton, Strategic Projects Specialist
"Local donuts" -Annie List
"At least one souvenir that displays the art or culture of the place, like a handmade Mexican blanket, or a hand painted Armenian dish, or a painting of a memorable scene/location/landscape." -Stephanie Petrie
"Street musicians serenading the alleyways with their melodies" -Sarah Harmon
"The best places to eat!" -Caitlin Bonnesen, Intern
When it comes to travel, I consider myself an expert in ____?
"Being able to slow down and appreciate the "small" moments of a trip. See the beauty in each and every moment." -John Paul Lichon
"Adjusting when plans go awry." -Sarah Harmon
"Taking the road less traveled, getting off the beaten path, and experiencing a place like the locals do!" – Jenna Streich
"The logistics of travel–I used to do a 10-day business trip through 4 or 5 countries with a single carry-on bag." -Mike Montalbano
"The logistics and preparation required when traveling abroad. I've been traveling internationally since I was four months old and haven't stopped since, so I have a lot of experience!" -Charlotte Velloso
"Arranging flights and finding the best itineraries and deals. Finding the secret, hidden gems of each city I visit – from local bars with cozy environments and delicious drinks to hole-in-the-wall restaurants with amazing food and atmosphere." -Stephanie Petrie
Why Verso?
"Verso's ultimate mission is to facilitate encounters with Jesus Christ. While we obviously seek to do that through pilgrimage, that mission also infuses the way we support one another, engage with our pilgrims, partners, and the world around us. Working at Verso has dramatically impacted my personal prayer and faith life in profound and unexpected ways. All of that on top of having the coolest colleagues ever!" -Brooke Kostielney
"It's an incredible group of people bringing their talents together to pursue perhaps the highest calling there is: bringing others closer to Christ" -Hunter Bratton
"Pilgrimage, in particular Verso's vision of it, is a metaphor for life. We accompany each other along the way through all parts of our stories, and by walking together, witness God's love at work in the world and draw closer to the people God is calling us to be." -Jenna Streich
"Anytime I can be involved in a faith based community I take that opportunity because of how much my faith has shaped my life and I hope to provide that same opportunity and chance for others as well." -Morgan Miller, Intern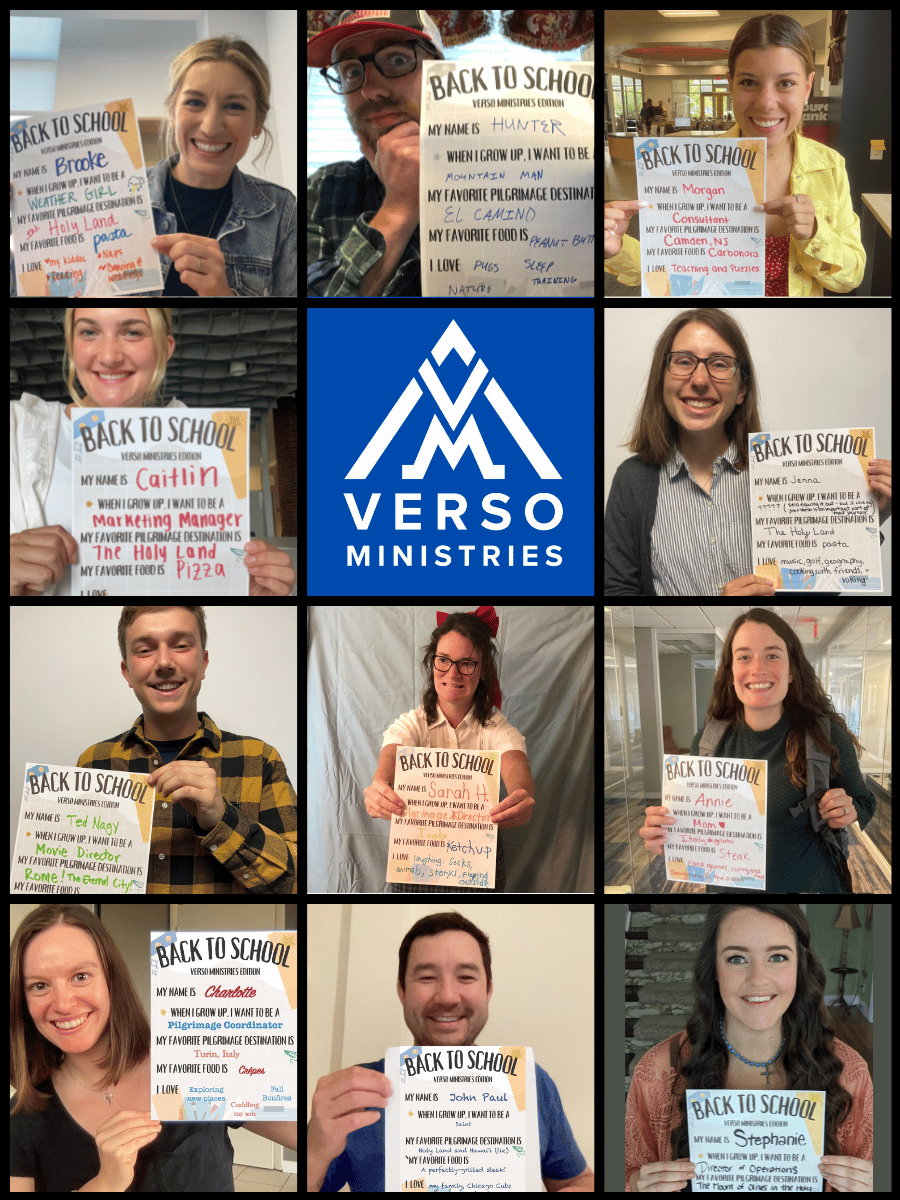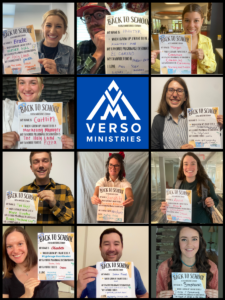 Which 2023 departure are you most looking forward to?
In a nearly unanimous staff vote: World Youth Day 2023 in Portugal 
"How Great Thou Arts pilgrimage to Italy with the Notre Dame Alumni Association! I studied art history in undergrad and sacred art in graduate school so I'm excited for pilgrims to experience the beautiful art of masters in the churches and basilicas of Rome, Assisi, and Florence so they might encounter God through beauty." -Stephanie Petrie
"Any & all Holy Land!" -Jenna Streich
"I am most looking forward to going to France with Little Flower Catholic Church! They are on fire with the love of the Lord and I am so excited to shepherd them to experience Therese's Little Way in such a tangible way. I can't wait to see how the Holy Spirit will guide and transform this parish through this pilgrimage." -Annie List
—
Traveling on a pilgrimage with us is an even better way to get to know the Verso team! Take a look at where we're heading next!
Did you enjoy this post? Here is some further recommended reading:
Becoming the Best Version of Yourself Through Pilgrimage
Two Modern Catholic Saints of the Holy Land You Need To Know About Today